William Pu Music Academy is presenting W.E. Duo ~ violin and guitar concert by WPMA faculty, Weiru Sheng and Erdong Li!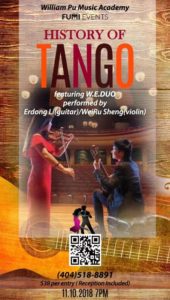 W.E. Duo won the 1st prize in the ensemble division of the Southern Guitar Festival. They have been touring in China during in past two summer, 14 concerts in the summer of 2017 and 6 concerts in 2018. They also have performed many concerts in the US. We are excited to W.E. Duo's first concert in Atlanta! Mark your calendar and don't miss this great performance!
When: Saturday, November 10th at 7 p.m.
Where: Fumei Events (3550 Mall Blvd NW, Duluth, GA 30096)
Click here to purchase the tickets.