Classical guitar is one of the members of the guitar family with 6 nylon strings and used in classical music. It is a wooden acoustic guitar, which has a different sound other than steal strings, such as acoustic or electric guitars. The classical guitar does not need any sound system for the regular performance, and it is a very portable instrument.
The classical guitar has different sizes for different ages of the students. Emphasis is on playing from a very young age, typically starting formal instruction from as young as 5 years old.
Guitar has developed over many years, and shaped in size. It comes from the baroque Lute; it has changed in size and shape, and also number of strings. It became to the baroque guitar and romantic guitar and then it gradually transformed to the Spanish guitar that now we use today. The classical guitar has a variety of music genres that it can be used for.
In general, it is mainly use for baroque, classical, romantic, and contemporary period classical music. Though not typical, it also can be used to play pop, rock, jazz and country music.
Guitar can play a big role of ensemble music. It can be played as duo, trio, and quartet or in a chamber music with other instruments or even a concerto with a full orchestra.
William Pu Music Academy offers 30 minute, 45 minute and an hour guitar lessons for students who are as young as 5 years old to adult.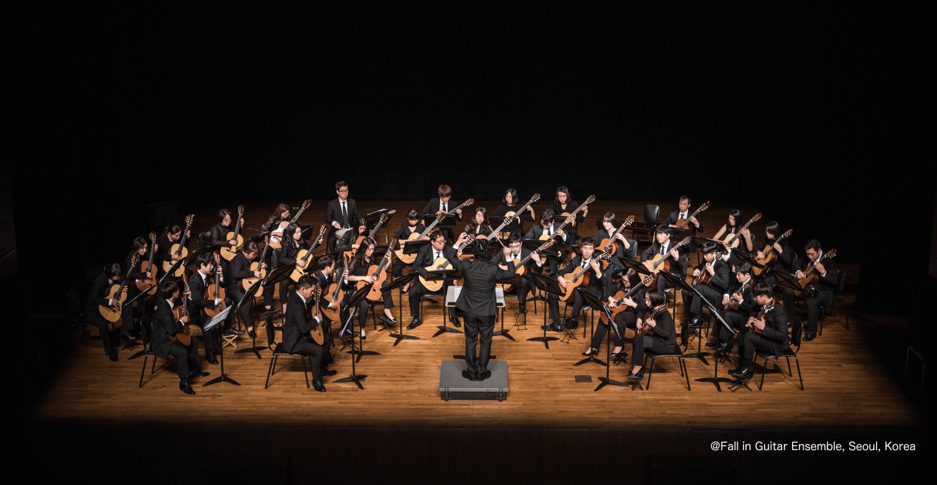 Fall in Guitar Ensamble, Seoul, Korea
INTERESTED IN LESSONS?
William Pu Music Academy, North Georgia's Premier Music Academy, raises the bar of music education, with excellent commitment and mission to help students to achieve their higher creative potential.