WPMA presents Violin Masterclass with Alice Hong on Sunday, August 28, 11 a.m. at WPMA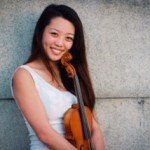 Violinist and composer Alice Hong began her violin studies at the age of ten and began composing at the age of nine. She recently earned her Masters degree in violin performance with Cho-Liang Lin at Rice University's Shepherd School of Music as a Dorothy Richard Starling Foundation Scholar. Alice also earned her Bachelors Degree from the Cleveland Institute of Music under the tutelage of David Updegraff along with a minor in composition. She has performedrecitals in China, Czech Republic, Canada, and the United States and has sat in principal seats for orchestras at Spoleto USA, Sarasota Music Festival, Colorado College Summer Music Festival, the Cleveland Institute of Music, Shepherd School Symphony Orchestra, Brevard Music Center, and orchestral ensembles at the Banff Centre. Alice has also appeared in masterclasses and worked with acclaimed professors such as Viktor Danchenko, Pamela Frank, Noah Bendix-Balgley, Donald Weilerstein, Soovin Kim, Ani Kavafian, Andrés Cardenes, Mark Kaplan, William Preucil, Joel Smirnoff, Cyrus Forough, William Pu, Mark Fewer, Laurie Smukler, David Bowlin, and Grigory Kalinovsky among others. She has earned recognition in the Lennox, Mika Hasler, and Hellam competitions.
​Alice is an avid chamber musician, having performed alongside esteemed musicians such as Frans Helmerson and Milhaela Martin, Andres Diaz, Mark Fewer, Bion Tsang, Barry Shiffman, Miguel de la Silva and members of the Atlanta Symphony Orchestra. She participated in several semesters of CIM's Intensive Quartet Seminar,  and her chamber groups have also worked with and played in masterclasses for the Juilliard Quartet, Chiara Quartet, Dover Quartet, Shanghai Quartet, Peter Salaff, Shmuel Ashkenazi, David Bowlin, Christof Heubner, Andrew Jennings, Ronald Copes, Roger Tapping, David and Philip Ying, Toby Appel, Desmond Hoebig, Seymour Lipkin, Carol Ou, Orion Weiss, Samuel Rhodes and others. She performed and toured as part of the "Heifetz on Tour" series, and her ensembles have received fellowships to programs such as the St. Lawrence String Quartet Seminar and the UNL Chamber Music Institute. Some of her summers have been spent at festivals such as Kneisel Hall, Heifetz Institute of Music, Bowdoin International Music Festival, International Music Academy of Plzen, and others.
Alice is also an internationally acclaimed composer. Her first symphony was premiered at age 11 and has since had compositions performed in Hungary, the Netherlands, Canada, China, Czech Republic, Canada and across America. Her pieces have been programmed in venues such as the Kennedy Center of Performing Arts in Washington, D.C., the Primrose International Viola Competitions, and the Northern California Viola Society Competitions. Her pieces have won multiple awards from the ASCAP Morton Gould Awards, Pikes Peak Young Composers Competition, first prize and audience prize at the 2nd Keuris Composition Competition for her piece for full orchestra Phoenix, and first prize of Cleveland Institute of Music's inaugural Carl E. Baldessere Competition for composer-­virtuosi. Among some of the performers of her pieces include members of the New York Philharmonic and the Atlanta Symphony Orchestra, members of the Cypress String Quartet, the Amersfoort Youth Orchestra, and students at Rice University, Peabody Conservatory and Cleveland Institute of Music. Her electronic piece, Alcyone, will be featured in a DVD featuring the dancers of Studio 3D. She, herself, has been given the opportunity to perform her pieces at the Kennedy Center and frequently participates in the new music ensembles and premieres. Alice will begin her Doctorate of Musical Arts in the fall of 2016 at the University of Toronto with Jonathan Crow. She hopes to pursue both violin performance and composition, and create a bigger niche composer-performers in Toronto.